Unique Memorialization that Lasts Forever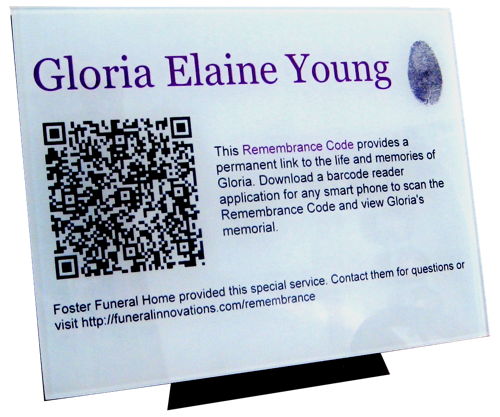 What is a Remembrance Code?
Remembrance Codes are elegant keepsakes that link to your loved one's online memorial via a mobile device – forever.
On the surface, the Remembrance Code provides utmost personalization through a unique and beautiful glass keepsake that displays a fingerprint, signature, and even incorporates your loved one's favorite color.
The magic happens courtesy of a 2-D bar-code displayed on each glass Remembrance Code; when scanned with any smart phone, it automatically opens the online memorial in a web browser.

Remembrance Codes are available as a keepsake as well as an option to be attached to the foundation of a monument or bronze memorial at a cemetery.
Why you'll love Remembrance Codes
A permanent link to your loved one's online memorial

A unique keepsake that your entire family will talk about and cherish

A sturdy and lasting build quality that can be passed on for generations

Easy access to your loved one's online memorial – no need to remember a URL or perform a search

Lasts forever – your loved one's online memorial will always be available
Try it now!
If you don't already have one, search for a 'barcode reader' application on your smartphone. Once installed, use it to scan the Remembrance Code below, to be brought straight to Gloria Elaine Young's permanent online memorial.